Domestic & Commercial Professional Plumbing, Gas fitting and Woodfire Installation Experts. Local to 

Brighton, Sandringham, Hampton and Bayside Homes and Businesses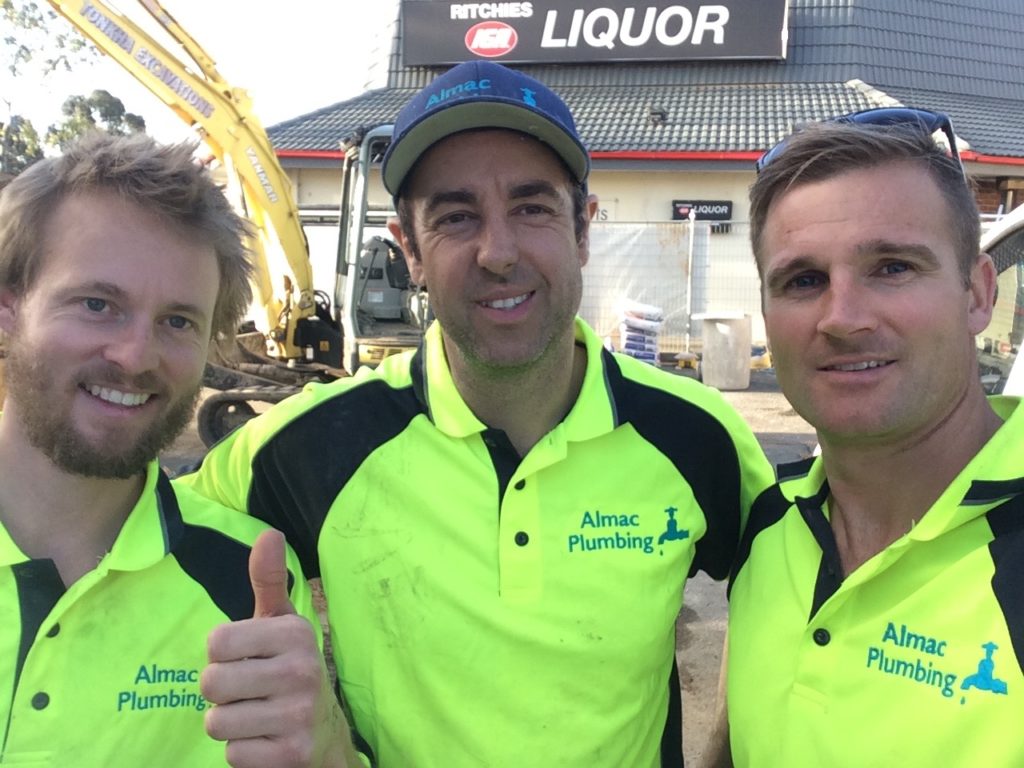 If you're on the hunt for local, experienced, reliable plumbers, gas fitters or woodfire installer in Brighton, Sandringham, Hampton or Bayside, look no further than Almac Plumbing. When you pick up the phone and dial 1300 125 622, one of our friendly and clean plumbers, woodfire or gas fitters will be dispatched to your doorstep in no time.
Professional plumbers, gas fitters and woodfire installers with over 15 years experience in domestic and commercial plumbing and drainage, gas and woodfire fitting and stormwater drainage. Almac Plumbing is your go-to plumbing specialists in Brighton, Sandringham, Hampton, Bayside and surrounds. 
Almac Plumbing specialises in:
Gas lines, gas fitting, gas services

Woodfire installations

Domestic plumbing and drainage

Commercial plumbing

Stormwater drainage installs and repairs

Sewer drainage

Grease interceptors

Trade waste drainage
100% satisfaction guarantee
Our team of licensed plumbers, gas and woodfire fitters local to Brighton, Sandringham, Hampton, Bayside and surrounds adhere to our strict standards of professionalism, which means turning up on time and completing the work to the best of our ability. We take pride in our commitment to customer satisfaction, completing each project to the highest standards of workmanship offering a 100% satisfaction guarantee on all of our work. So if you are not happy with the work that we have completed for you, we will come back at no charge to fix it. 
Customers are a top priority
Our Brighton, Sandringham, Hampton and Bayside customers are our number one priority, which is why we will always endeavour to be punctual, and we will communicate with you with plenty of advanced notice should we run late. We value your home and business just as much as you do, which is why we will always remove our shoes, and leave the plumbing, woodfire installation or gas fitting job tidy – sometimes even cleaner than before!
Almac Plumbing
OUR SERVICES
FRIENDLY, CLEAN AND RELIABLE
WIDE RANGE OF PLUMBING SERVICES
Our Services:
Woodfire Installations
Gasfitting
Domestic Plumbing/Drainage
Commercial Plumbing/Drainage
Almac Plumbing
TESTIMONIALS
I would like to recommend Allen from Almac Plumbing for his incredible professionalism and excellent quality of his work. I contracted Allen to renovate two complete kitchens and three bathrooms on my investment properties; and he has delivered not only excellent quality work, but his leadership skills in leading with other tradesmen and difficult neighbours was outstanding. He managed to complete the work on agressive timelines without compromising quality .
Gabriela Ladowsky


Alan has worked with us at our restaurant for almost a year now. He has consistently and thoroughly worked through some difficult plumbing jobs and always kept us informed. A true professional at a competitive price. We highly recommend him!
Axel & Daniel (El habanero)
We have been using Almac Plumbing for the renovations of our investment property in Mulgrave. Al is fantastic to work with – not only does he always turn up on time, but he listens to what we want and makes recommendations if he feels that we could go in a better direction. So far he has removed two bathrooms, installed a new bath, completed all of the waterproofing and has prepped the kitchen and laundry. I can't wait to see the finished product – but I already know how great it is going to be. Thanks so much Al!

Naomi Rajendram

Almac Plumbing provided a highly effective service on a unique and demanding project. Our brief was ambitious and complicated, requiring intelligent plumbing solutions for a small kitchen rebuild. Almac Plumbing completed this on time and budget. Foremost, we were most impressed by Allen's initiative, optimism and enthusiasm to achieve exceptional results in full recognition of the challenging nature of the job.

Brandon Hocking